It all began with a garden.  I started a garden growing heirloom vegetables quite a few years ago now.  It included unusual crops including gourds. When two bumper crops filled my Camp Verde porch with gourds, serendipitously, a crafting class at the Desert Botanical Garden gave me a new direction for my creativity.  
I'm an Arizona girl, a Tucson native.  I thrive in the desert climate.  A childhood filled with desert exploration, the Mexican seashore and travel throughout the US  gave me opportunities to store away ideas that would surface in my later artwork.  Combining my love for the outdoors with a career in the necessary world of work, my years as a park ranger gave me many chances to celebrate nature and history, a theme that recurs again and again in my art pieces. My art has always been about exploring new things, and for me, this variety has always been the spice of life.
I have always dabbled in art; trying all sorts of things.   I took classes in pottery, stained glass, painting and printmaking and eventually ended up with a degree in photography.  Eventually though it was the gourds that hooked me.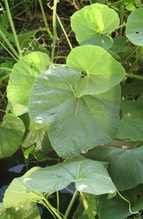 I've often thought about why gourd art is my passion; perhaps it's the versatility.  As with my gardens, I like trying different plants and gourds have been the perfect canvas for almost endless treatments.  I can paint them, carve them, woodburn and draw on them, even embellish them with Arizona minerals and natural fibers.  Always trying new techniques and media, I look on each gourd as a unique adventure in artistic possibilities!
I have an eclectic style, so no one technique or image dominates my work.You will notice flowers, leaves, wildlife, southwestern designs along with whatever strikes my fancy.  As I hold each unique gourd I decide if carving, woodburning, staining or inlaying stones will decorate its future.  The gourds tell me where to go and I follow.  Life and art continue to be an adventure!